Browse Folders (3 total)
Includes "My Most Unforgettable Sea Experience" by Franklin A. Picker, Jr., "From the Log" by A. Matthiesen, "The Bauxite Run" by Marjorie Dent Candee, "Admiral Belknap Retires", "A Shellback Remembers", "Her Voice Thru the Night" by Valentine Hill,…
Rating: No Rated
Includes "The Future of Sailing Ships"and "A Letter from Dr. Deems."
Rating: No Rated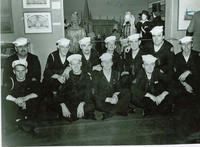 Includes black and white photographs of SCI's centennial celebration on April 12, 1944. A photo of "Shanghaiing in a Waterfront Dive", a set designed by Gordon Grant, and a portrait of Sir Ashley Sparks, Christopher Morley, Charles R. Patterson and…
Rating: No Rated
Copyright (c) 2011-2013 The Seamen's Church Institute
Proudly powered by Omeka.