Browse Folders (3 total)
Eighty-Ninth Annual Report of the Seamen's Church Institute of New York. Includes Profiles on Thomas P. Cummings, Gorge Norton Titus, Rev. Henry John Whitehouse, Jonathan Mayhew Wainwright, Francis Upton Johnston, Theodore Dehon, Charles Tracy,…
Rating: No Rated
Eighty-Eighth Annual Report of the Seamen's Church Institute of New York. Includes In Memoriam of Founders of Institute.
Rating: No Rated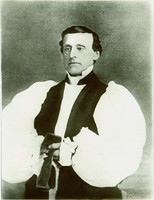 Includes black and white photographs of Rev. Henry J. Whitehouse (1803-1874). Rev. Whitehouse was a clerical vice-president of SCI from 1844-1851.
Rating: No Rated
Copyright (c) 2011-2013 The Seamen's Church Institute
Proudly powered by Omeka.